Blue falcons Rugby Club to launch second French Touch Rugby Tournament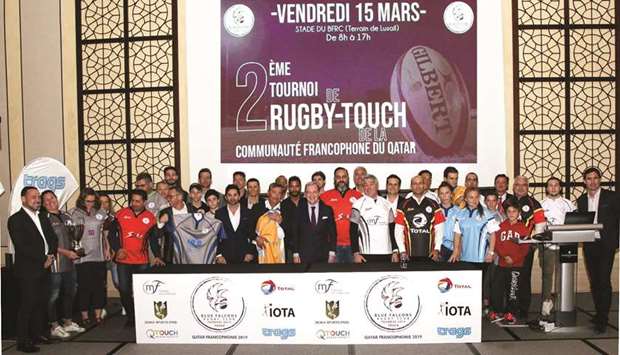 French ambassador Franck Gellet with some of the participants of the French Touch Rugby Tournament at the 'Captain's Ceremony' yesterday.
As part of the Francophonie celebrations in Doha, the Blue Falcons Rugby Club (BFRC) will be launching the second French Touch Rugby Tournament at the Doha Sports Park on March 15. "It is important for our club to support the Francophonie celebration in Qatar which comes along very well with the core values of rugby, respect, solidarity and friendship," BFRC president Nicolas Boisard said.
"Building up on last year successful first edition, we decided to enlarge the tournament from 16 to 24 teams, making it the biggest ever Touch Rugby Tournament in Qatar," he added. Tournament president Jean-Christophe Barat said there are about 200,000 French-speaking persons from various nationalities in Qatar. Vice-president Romain Quintane added that they managed to get the support of more than 15 Qatari, French and international companies and many will be represented with their own in-house teams.
BFRC is a fast developing club with recent success in international tournaments. It features youth teams and organises tournaments in Doha.