Important Announcement - Food & Beverage

IMPORTANT ANNOUNCEMENT - FOOD & BEVERAGE UPDATE
As you may be aware, according to the government re-opening plan of phase two, effective Wednesday the 1st of July, Doha Golf Club will be permitted to serve Food & Beverage again on the usual operating hours.
However, there are certain conditions relating to this re-opening.
Access to the Bar & Catering facilities will be on a strictly 'MEMBERS ONLY' basis. To use the facilities, you would need to join as a Social Member, by completing the following form:
The cost of Social Membership will be 500 QAR, to expire on 31st December 2020
Once the form has been completed, you will receive an automated email with an invoice, instructions of how to pay, and details of how to book.
Please do remember that the staff on duty are 'not responsible for making the restrictions, but they are responsible for implementing them'. Please be understanding of this when you are advised of something that is not to your preference.
Due to the current restaurant capacity restrictions from the government, entry into the restaurant will only be permitted if seats are available, therefore we kindly advise you to make a reservation to avoid disappointment (more on this below). We would like to keep the seating time to a maximum of three hours to give all guests the opportunity to be served.
In addition to this seating requirement to permit entry, please show the green health code displayed on the Ehteraz application on your mobile phone. These regulations will remain until further notice.
These rules have been implemented by Ministry of Public Health and can be viewed by CLICKING HERE
Please do take the time to read all of the instructions below.
I look forward to seeing you on the course and around the Clubhouse.
Yours sincerely,
Nirmal Uprety
Golf Club F&B Operations Manager
---
View the Menu by using the QR code below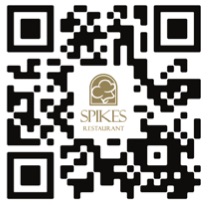 ---
FOOD & BEVERAGE BOOKINGS - NOTES TO MEMBERS
* All visits MUST be pre booked a maximum of 48 hours in advance
* Casual Member Walk ins will not be accepted
* If you are wanting to bring Partners, Children, or guests, they must join as a social member prior to arrival. You can pre-register by completing the following form CLICK HERE
* Do not book more than 4 people in total. This is a Law from the Ministry of Interior. Any bookings of more than 4 people will be removed completely.
* Once Capacity is reached for each of the areas, Members will not be allowed in to the F&B outlets
* SOCIAL DISTANCING MUST BE MAINTAINED AT ALL TIMES
* Do not move any of the tables or chairs
* Do not go to any of the bars to request service. All service will be at your Table only.
* At the table, you do not need to wear a mask
* Once you have stood up to move, go to the toilet, or exit, you MUST wear a mask
There will be regular checks by the Police and/or the National Tourism Council. If there are any violations of our procedures, the Bars & Restaurants will be shut down immediately.
As with the golf course, the continuation of Food & Beverage service IS IN YOUR HANDS
PLEASE EAT & DRINK RESPONSIBLY