World Handicap System goes 'live' Friday 31st July

Below you will find information with regards to the World Handicap System which is due to change in Qatar on Friday 31st July 2020

Golf already has a single set of playing Rules, a single set of equipment Rules and a single set of Rules of Amateur Status governed by the USGA and The R&A. Yet, today there are six different handicap systems used around the world. Each is well developed and successfully provides equity for play locally, but each of the different systems produces slightly differing results when calculating players' handicaps.

The WHS will unify these six existing systems into a single system that will:

• enable golfers of different abilities to play and compete on a fair and equal basis, in any format, on any course, anywhere around the world;
• be easy to understand and implement, without sacrificing accuracy; and
• meet the varied needs and expectations of golfers, golf clubs and golf authorities all around the world and be adaptable to suit all golfing cultures.

The WHS will encompass both the Rules of Handicapping and the Course Rating System (formerly known as the USGA Course Rating and Slope System).

Please see the attached the new Course Handicap Calculation in addition to the WHS Rules which covers the below:

• The Rules of Handicapping
• Scores acceptable for handicap purposes
• Maximum scores for handicap purposes
• Submitting a Score
• Handicap Index Calculation
• Course Handicap
• Management Actions
The World Handicap System includes the Rules of Handicapping and the Course Rating System.
PLEASE REMEMBER
Its purpose is to enable as many golfers as possible the opportunity to:
• Obtain and maintain a Handicap Index.
• Use their Handicap Index on any golf course around the world.
• Compete, or play recreationally, with anyone else on a fair and equal basis.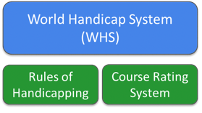 • THE COURSE RATING SYSTEM – The courses have all been rated
CLICK HERE to view all of the Courses at Doha Golf Club, with the relevant Course Rating, Slope Rating, and what your Course Handicap would be
• RULES OF HANDICAPPING – which covers all the new calculation and rules to Handicapping management controls and Adjustments.
THE RULES OF HANDICAPPING ARE :
Rule 1: Purpose and Authorization; Obtaining a Handicap Index
Rule 2: Scores Acceptable for Handicap Purposes
• Acceptability of Scores (Rule 2.1)
• Playing by the Rules of Golf (Rule 2.1b)
• Minimum Number of Holes for an 18-hole score (Rule 2.2a) Minimum Number of Holes for a 9-hole score (Rule 2.2b)
Rule 3: Adjustment of Hole Scores
• Maximum Score for Handicap Purposes (Rule 3.1)
• When a Hole is Not Played (Rule 3.2)
• When a Hole is Started but Player does not Hole Out (Rule 3.3)
Rule 4: Submitting a Score
• Timeframe for Submitting a Score (Rule 4.3)
• Certification of a Score (Rule 4.4)
• Minimum Number of Scores to Get a Handicap (Rule 4.5)
Rule 5: Handicap Index Calculation
Rule 5.1a Basic Calculation of an 18-hole Score Differential
Rule 5.1b Basic Calculation of a 9-hole Score Differential
Rule 5.2 Calculation of a Handicap Index
Rule 5.3 Maximum Handicap Index
Rule 5.4 Frequency of Revision of a Handicap Index Update
Rule 5.5 Ageing of Scores and Lapsing of a Handicap Index
Rule 5.6 Playing Conditions Calculator (PCC)
Handicap Adjustments:
Rule 5.7 Low Handicap Index
Rule 5.8 Limit on Upward Movement of a Handicap
Rule 5.9 Index Submission of an Exceptional Score
A condensed version of the main rules and procedures below:
RULE 2: SCORES ACCEPTABLE FOR HANDICAP PURPOSES
The scores a player submits for handicap purposes are at the core of the calculation of their Handicap Index.
Rule 2 covers the conditions a score must satisfy for it to be acceptable for handicap purposes, providing confidence that it will produce reasonable evidence of the player's ability and, ultimately, a Handicap Index that is reflective of demonstrated ability.
RULE 2.1: ACCEPTABILITY OF SCORES
Rounds played:
• In an authorized format of play.
• Over a minimum number of holes.
• By the Rules of Golf.
• With at least one other person.
• On a course with a current Course Rating and Slope Rating.
• During an active season.
• Certified in accordance with Rules of Handicapping
•
Scores in Stroke play must be posted for handicap purposes.
This includes scores made in match play, in Stableford or in team competitions or in which players are requested to pick up when out of contention on a hole.
RULE 2.1a PLAYED IN AN AUTHORIZED FORMAT OF PLAY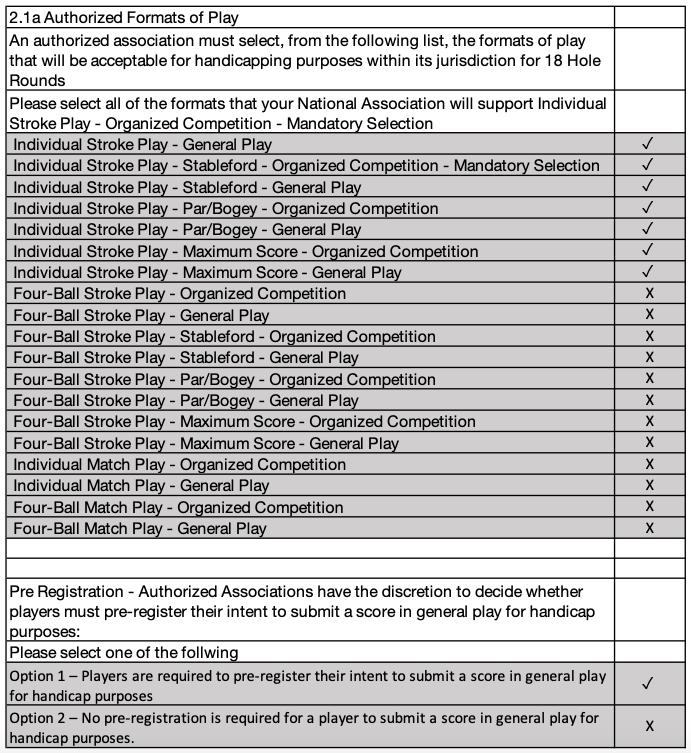 RULE 2.1b: PLAYING BY THE RULES OF GOLF
A round must be played by the Rules of Golf to be acceptable for handicap purposes. EXCEPTION:
When a player is disqualified from a competition, but no significant advantage has been gained, the score should remain acceptable for handicap purposes.
For example, failure to sign a scorecard in stroke play.
The final determination is at the discretion of the Committee.
In General Play - a score is NOT acceptable for handicap purposes if the player is known to have:
• Breached the Rules of Golf and the correct penalty has not been applied as prescribed by the Rules of Golf, or
• Deliberately ignored the Rules of Golf. Other Examples of Unacceptable Scores:
• Foursomes (also known as Alternate Shot)
• Scrambles
• When practicing or being coached
• When playing alone
• When the score cannot be verified by another player
• When using non-conforming equipment
• When the minimum number of holes have not been played
RULE 3.1 MAXIMUM SCORE FOR HANDICAP PURPOSES MAXIMUM SCORE PER HOLE = NET DOUBLE BOGEY

This is the downward adjustment of individual hole scores for HANDICAP purposes to make handicaps more representative of a player's potential ability.
This is A MAXIMUM SCORE that a player can post on a hole depending on the players Course handicap.
The net double bogey adjustment sets a maximum score on any hole for handicap purposes, ensuring bad holes do not impact a player's handicap too severely. At the end of the round your score must be adjusted to the ADJUSTED GROSS SCORE which will be entered into the handicap system. You make these adjustments as needed when you play the hole.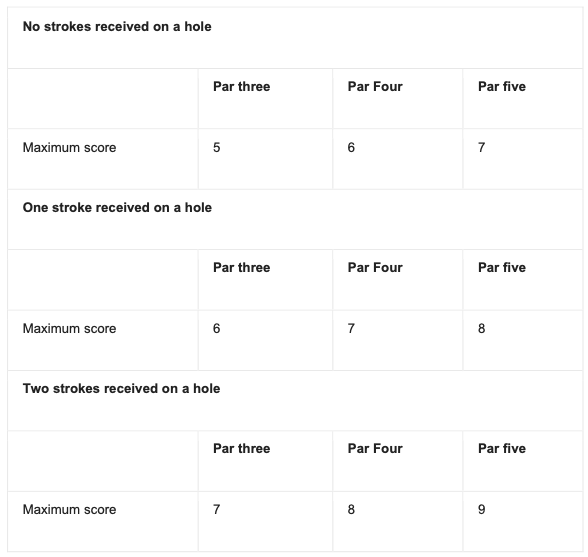 You must always enter the score you were most likely to have scored before applying MAXIMUM SCORE PER HOLE.
RULE 3.2: WHEN A HOLE IS NOT PLAYED
When a player has completed the minimum number of holes, but not the full 9 or 18 holes, Minimum Number of Holes for an 18-hole score (Rule 2.2a)
If 12 or more holes are played, the player must post an 18-hole score.
Minimum Number of Holes for an 9-hole score (Rule 2.2b) If 7 to 13 holes are played, the player must post a 9-hole score
In either case, scores for the HOLES NOT PLAYED must be recorded as PAR PLUS any handicap strokes that the player is entitled to receive on the holes not played.
RULE 3.3: WHEN A HOLE IS STARTED BUT PLAYER DOES NOT HOLE OUT
A most likely score is the score a player must post for handicap purposes if a hole is started but not completed or if the player is conceded a stroke.
The most likely score consists of the number of strokes already taken plus, in the players Best Judgment, the number of strokes the player would take to complete the hole from that position/what the player can reasonably expect to score – more than half the time.
When most likely score is used, the Rules of Handicapping include the following guidelines for determining what score to record on a hole:

RULE 4: SUBMITTING A SCORE
Rule 4 covers the process for the submission of acceptable scores for handicap purposes, both to obtain an initial Handicap Index and to maintain an established Handicap Index.
Full details of registering, submitting scores, and overseas rounds, through the website and the app will be available shortly
RULE 4.3 TIMEFRAME FOR SUBMITTING A SCORE
A player should submit their score as soon as possible PREFERABLY on the day of play, after completion of their round and before 10PM (local time).
A player has a maximum of 72 hours to close/enter their score for their round after it has been registered / opened.
If the player fails to enter a score for their round after 48 hours , the player will receive a notification via E mail reminding them to enter a score or they will receive a PENALTY SCORE equal to their lowest differential in their last 20 games and an immediate handicap adjustment after 24 hours of the notification (i.e. total of 72 hours after game was registered). If the player later sends their card for this round to their home club, their score may be adjusted at club's discretion.
RULE 4.4: CERTIFICATION OF A SCORE
Score must be available for peer review as soon as possible after being posted to the scoring record
RULE 4.5: MINIMUM NUMBER OF SCORES TO GET A HANDICAP
To obtain a Handicap Index, a player must post at least 3x 18-hole scores.
(54 holes made up of any combination of 9- or 18-hole rounds)
The club can review & issue a Handicap Index to the player at their own discretion.
RULE 5: HANDICAP INDEX CALCULATION
Rule 5 covers the process of calculating a Handicap Index and incorporates the safeguards needed to help ensure that a player's Handicap Index remains reflective of their ability and that equity is retained for all golfers. It includes mechanisms which:
• Remembers previously demonstrated ability within a defined period of time.
• Caps the upward movement of a player's Handicap Index within a defined period of time.
• Applies additional adjustments to a player's Handicap Index when an exceptional score is submitted.
RULE 5.1: BASIC CALCULATION OF A SCORE DIFFERENTIAL
Score Differential


RULE 5.2: CALCULATION OF A HANDICAP INDEX

This is your live calculated handicap index after 3 x 18-hole scores that have been entered on the system AND that are less than 6 months old
Average the lowest 8 of the most recent 20 score differentials, rounded to the nearest tenth.
If you have less than 20 games in your game record a sliding scale calculation as per below is applied.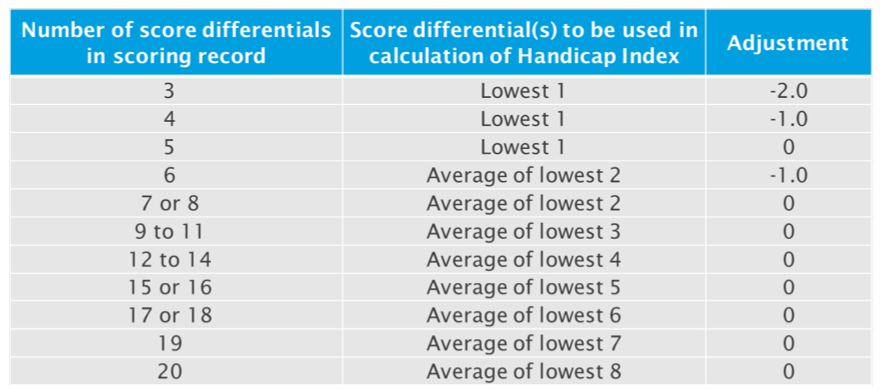 RULE 5.3: MAXIMUM HANDICAP INDEX
The maximum Handicap Index is 54 for All players: Regardless of age or gender
Note: A maximum Handicap Index will convert to a Course Handicap that exceeds these numbers on golf courses with a slope rating greater than 113.
RULE 5.4: FREQUENCY OF REVISION OF A HANDICAP INDEX
A player's Handicap Index should be updated no later than the day after a score was submitted, or as soon as possible thereafter.
In a situation when a new round is played before the player's Handicap Index has
been updated, including when multiple rounds are played on the same day, it is recommended that the player uses their existing Handicap Index. However, in certain circumstances, the Committee in charge of the competition (or the Handicap Committee) has the discretion to decide what Playing Handicap the player should use (see Rule 7.2).
The handicap calculation is done based on the data on the Golferscard system at the time of revision.
RULE 5.5: AGEING OF SCORES AND LAPSING OF A HANDICAP INDEX
A score continues to be part of the Handicap Index calculation as long as it remains within the player's most recent 20 scores recorded, regardless of the age of the score.
A Handicap Index only lapses if a player is no longer a member of at least one golf club.
Note: A player's scoring record should be retained wherever possible. (maximum 4 years) This will assist a Handicap Committee if the player obtains a Handicap Index again in the future.
RULE 5.7: LOW HANDICAP INDEX MEMORY OF THE LOW HANDICAP INDEX

There are two trigger points within the cap procedure:
Soft cap – the point after which there is a reduction in the rate of upward movement of a Handicap Index.
Hard cap – the point which sets the maximum limit for the upward movement of a Handicap Index.
RULE 5.8: LIMIT ON UPWARD MOVEMENT OF HANDICAP INDEX
The soft cap suppresses upward movement when the difference between the new calculated Index and the Low Index is greater than 3.
The increase is suppressed by 50% of any value over 3.
The hard cap prevents further upward movement by placing a hard ceiling at 5 above the Low Index.
The soft cap and hard cap procedures only start to take effect once a player has at least 20 acceptable scores in their scoring record.
RULE 5.9: SUBMISSION OF AN EXCEPTIONAL SCORE
A Score Differential which is 7.0 strokes or more BETTER (LOWER) than the player's Handicap Index at the time the round was played.
Score can be from ANY format of play, competitive or general play. (C9 and Penalty games also included)
When a player submits an exceptional score, the handicap formula applies an additional adjustment to the player's updated Handicap Index – according to the table.

This adjustment is in addition to any reduction caused within the 8/20 calculation.
• If an additional Exceptional Score Differential is submitted after this, which is 7 or less than Handicap index
• This leads to a further -1 adjustment to all 20 previous score differentials, which can overlap with previous adjustments
• So, the effect of multiple exceptional scores is cumulative
RULE 6: COURSE HANDICAP
The NEW COURSE HANDICAP FORMULA IS :
(HANDICAP INDEX x SLOPE / 113) + (COURSE RATING – PAR) = COURSE HANDICAP
This your course handicap that you play off for a round at a specific golf course off a specific TEE according to the Slope rating, Course Rating and PAR of that TEE at that golf course.
RULE 7: COMMITTEE ACTIONS
Principle of the Rule:
The Clubs Handicap Committee plays a vital role in the successful administration of a player's Handicap Index and is equipped with tools to intervene when the calculated Handicap Index is no longer reflective of the player's golfing ability.
Used appropriately, these tools are designed to ensure that players are treated fairly and consistently from golf club to golf club.
The Committee in charge of the competition also plays an important role in setting appropriate Terms of the Competition for all participating players.
APPENDIX A : Player Responsibilities
To comply with the requirements of the Rules of Handicapping, a player is expected to:
(i) Act with integrity by following the Rules of Handicapping and to refrain from using, or circumventing, the Rules of Handicapping for the purpose of gaining an unfair advantage.
(ii) Have only one Handicap Index from a single scoring record, which is managed by the player's home club in accordance with the Rules of Handicapping.
Note: This Handicap Index will apply elsewhere, including at all other golf clubs of which the player is a member.
(iii) Ensure each golf club of which they are a member knows the details of: All other golf clubs that they are a member of, and which golf club that they have designated to be their home club.
(iv) Ensure that, prior to playing a round in an authorised format of play, they:
a) Know their current Handicap Index,
b) Inform the Handicap Committee or the Committee in charge of the competition of any discrepancies with their Handicap Index and provide details of any outstanding scores yet to be submitted or posted to their scoring record,
c) Know the holes where handicap strokes are to be given or received, and
d)Record their correct handicap on the scorecard in a stroke-play competition.
(v) Attempt to make the best score possible at each hole.
(vi) Where applicable, ensure all acceptable scores are submitted for handicap purposes, including scores from outside the player's home jurisdiction. Acceptable scores should be submitted:
a) Before 10pm on the day of play, and
b) In the correct chronological order
(vii) Submit acceptable scores to provide reasonable evidence of their demonstrated ability
(viii) Provide any new golf club with the full details of their previous playing history, Handicap Index held, memberships and any other information relevant to their golfing ability.
(ix) Play by the Rules of Golf.
(x) Certify the scores of fellow players