Doha Golf Club Junior Development Programme

Dear Parents
Greetings from Qatar Golf Academy.
Firstly I hope you and the children have all enjoyed your summer break and are looking forward to the coming 2021/2022 golfing season here at Qatar Golf Academy, Doha Golf Club.
Below is a brief background on the Qatar Golf Academy and Our Junior Development Program: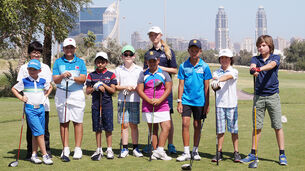 Qatar Golf Academy was established in 1997 and is one of the largest practice facilities in the Middle East. The practice area consists of the biggest driving range on the European tour compromising of 160 hitting bays, the largest putting green in the Middle East, and a designated short-game area with 2 large bunkers and a designated pitching green.
Our Junior Development Program is the longest running, largest and most successful Junior Golf Coaching Program in Qatar. With over 300 juniors on average attending the golf club for coaching programs every week. The Academy Team has created an energetic atmosphere partnered with a great learning environment to enhance each child's experience.
Over the past 5 years numerous children that have taken part in our Junior Development program have progressed on to University scholarships, careers in Professional Golf and some even playing in Major European Tour Events.
As of today, registration for our Junior development program is now open. Please find attached a registration form, coaching schedule and a disclaimer form. As you will notice from the attachments there have been some slight amendments to last year's program as we are constantly trying to improve and grow the program.
Please take a look at the attached coaching schedule and choose a particular day and time that works for you and your child and inform Qatar Golf Academy reception. Once we have received interest and desired coaching sessions from all participants we will contact you and confirm your child's place.
Please note with reference to the above we may advise some changes depending on ability levels and ages.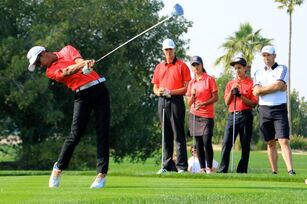 Please print out and complete the attached forms, visit the Golf Club Reception, to complete a copy or respond via email to Golf Reception (academy@dohagolfclub.com) along with payment to confirm your child's place on your chosen day. Places are limited and are allocated on a first come first served basis so if you have a particular day in mind please contact us ASAP to reserve your child's place. If you are unable to visit the Academy please email or call us on the contact details below.
If you have any questions or queries on about the attached forms, please contact Reception.
We look forward to seeing you and the children back at the Qatar Golf Academy in the near future and look forward to working with you over the coming golfing season.
Please note that there may be changes in the schedule due to various events taking place in Doha over the coming months, we will do our best to inform you with as much notice as possible.
Best Regards
The Qatar Golf Academy Team!
Email: academy@dohagolfclub.com
Tel: +974 4496 0755
---
2021 / 2022 Schedule (Click on image to enlarge)
---
Application Form (Click on image to enlarge)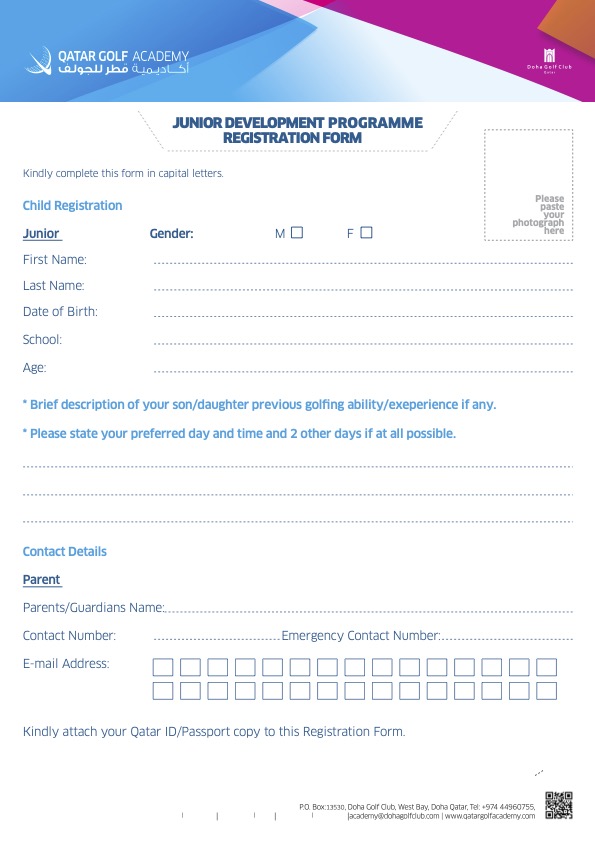 ---
Further Information (Click on image to enlarge)